[ad_1]

Whether Photoshopping their face onto a classic painting or resorting to taxidermy after death, humans have found plenty of interesting ways to honor their beloved pets.
But this creative cat owner's "derpy" attempt to celebrate their furbaby has the bonus of brightening up your home.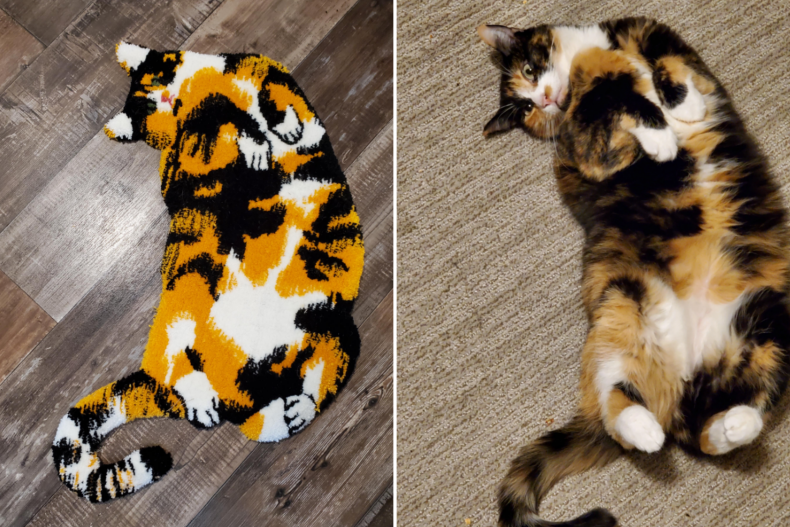 In a post to r/cats on Friday April 29 (which can be viewed here), u/Zaldraz shared the rug they'd made of their cat Honey, and Redditors couldn't get over the likeness.
They wrote: "I made a rug of my cat. I think it looks a little derpy but it looks pretty close for being a rug!"
As well as a snap of his homemade mat, he also shared the picture he used of Honey as inspiration, as well as one with the feline admiring her floor portrait.
The post has since been upvoted 41,000 times and received over 700 comments from impressed Redditors.
Muskratjack said: "I read that as 'I made a rug out of my cat' at first and was extremely concerned.
"But it looks awesome! You did a great job."
The_Weirdest_C*** wrote: "I thought it was some sort of filter on an image of a real cat."
Tamerriam61 commented: "Beautiful match. You did well."
It wasn't long before u/Zaldraz was inundated with commission requests.
Substantial-Emu3255 said: "I feel like you [could] make a good living selling these to cat owners. Nicely done!!!"
Thisisallme said: "I would pay a ridiculous amount for rugs of my 3 cats."
Ilikebooksandfrogs also put in an order: "If you have the time i would love to commission you too!!"
According to marketing agency Common Thread, the pet industry is one of the "most lucrative" markets for businesses to break into. A recent report by market research firm Packaged Facts said that online sales make up 30 percent of the pet products market, a 22 percent increase since 2015. Although well-known brands still hold the highest market share in brick-and-mortar stores, there are plenty of Etsy and Amazon sellers providing pet-related products and supplies online, including portraits and other customized items.
Redditors weren't the only ones to fall in love with the cat mat. Honey herself seemed pretty impressed, giving the rug a good sniff in her photo.
The_pun_fart commented: "Make my rug like one of those French girls, Jack."
DianneTodd01 said: "I love photo three where your cat is 'miring her rug."
To which Zaldraz replied: "I was trying to get her to pose like the rug but she was too interested in sniffing it."
Others saw a likeness between the photo of Honey and Michelangelo's The Creation of Adam, the fresco painting that adorns the walls of the Sistine Chapel.
Calamity_Jesus wrote: "It's got a Sistine Chapel vibe… except instead of God and man reaching out to each other it's just two Gods mirin."
Axloc agreed, adding: "I thought the same thing. Has that sixteenth chapel look for sure."
[ad_2]

Source link